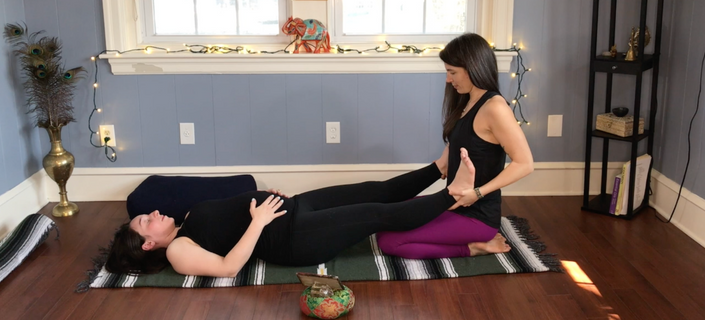 Prenatal Yoga & Mindfulness Practices for A Healthy Pregnancy
A Collection of Practices and Insights to help you love your body and love your baby
Watch Promo
Enroll in Course
Welcome to a course that can significantly improve your health and well-being throughout your pregnancy! The senior instructors at Prana Das Yoga Therapy & Healing Arts Center partnered with Dr. Scott Dinesen, OBGYN, to bring you practices of yoga and mindfulness that are tested, proven and approved by a doctor.
Yoga has been found to improve full spectrum pregnancy health, turning stress and anxiety into calm presence, relieving everyday and also chronic pain and stiffness in the body, sustaining strength and flexibility, making internal space for reflection and appreciation of the process and even supporting women through high-risk pregnancy and post-birth recovery.
Try it risk-free! No experience is required. We look forward to being a part of this very special time in your life.
Your Instructor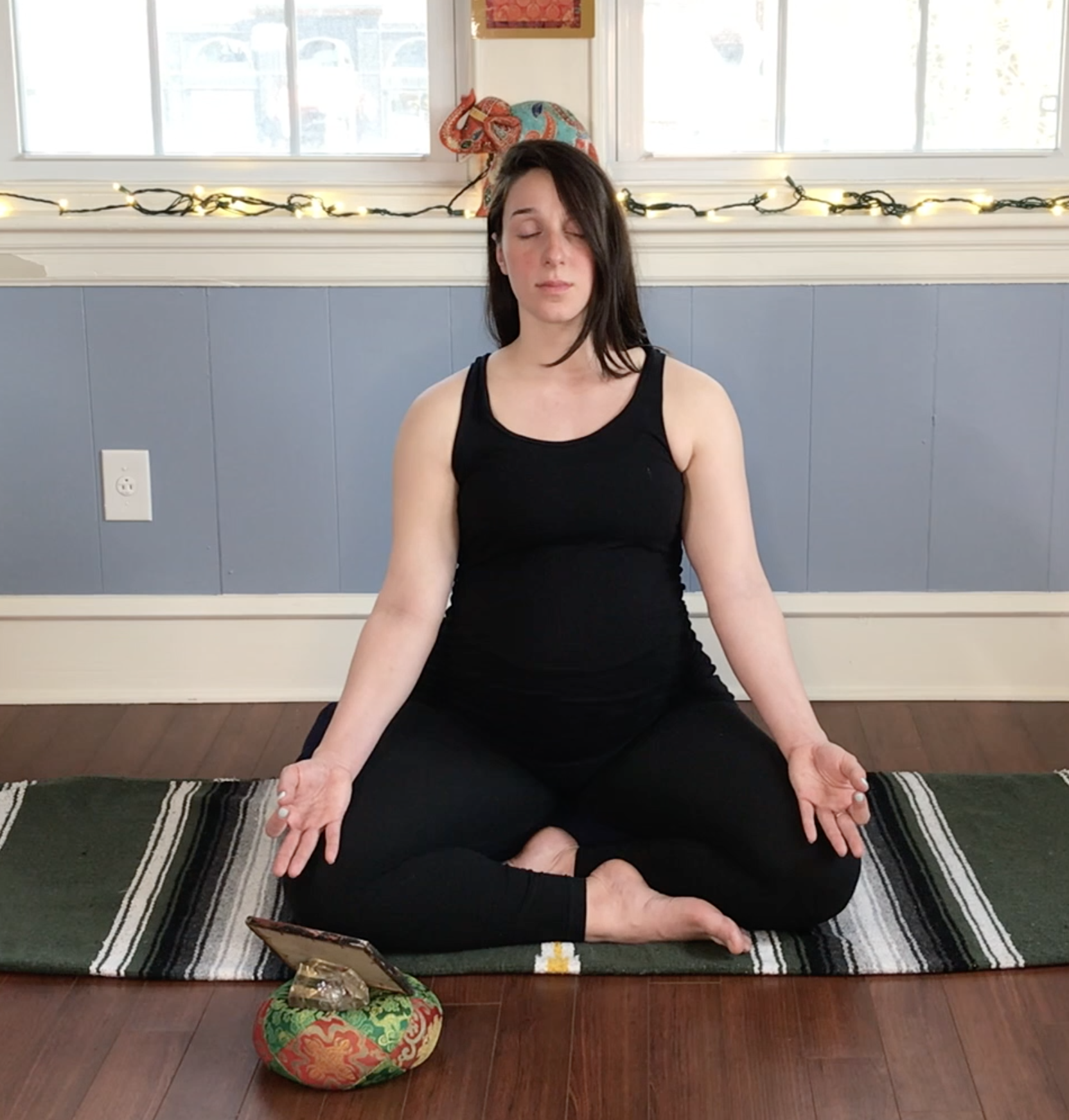 I am a full-time yoga teacher in the Philadelphia area and the mother of a soon to be one year old boy! I work with people of all abilities, and encourage everyone to find a steady yoga practice that feels nourishing and healing to their body and mind. I began teaching immediately after completing my first 200 Hour Course in 2005, and from there I began years of continued study in Ashtanga Yoga and Tibetan Buddhism. These interests led to extensive travel in India and beyond, but my greatest and most honorable journey was the one to motherhood.
I joyfully became pregnant in 2017, and found yoga to be a continual source of energy as I navigated through all of the changes in my life. Mysore practice was an anchor to keep me grounded and helped me to deal with the anxiety that comes with expecting a child. I believe that the practice of yoga kept my body healthy up until the day I gave birth, I was even able to teach a class a day before my "guess" date! Most importantly, the practice helped to steady my mind when I would start to feel overwhelmed during pregnancy, labor and post-partum. I continually educate myself on pregnancy and birth, and I am inspired to work with women during this most special time in their lives.
Course Curriculum
Course Overview & Introductions
Available in days
days after you enroll
Expert Discussions with OBGYN Dr. Scott Dinesen, Nadia Hopkins & Vivi Mazzone
Available in days
days after you enroll
Therapeutic Breathing & Meditation Practices
Available in days
days after you enroll
For less than the cost of just one yoga class per month, you have the freedom to choose your practice based on how you feel each day
and practice when you want in the comfort of your own home.
Try us out! We want you to be happy. If you're not 100% satisfied, let us know in the first 30 days and we'll give you a full refund, no questions asked.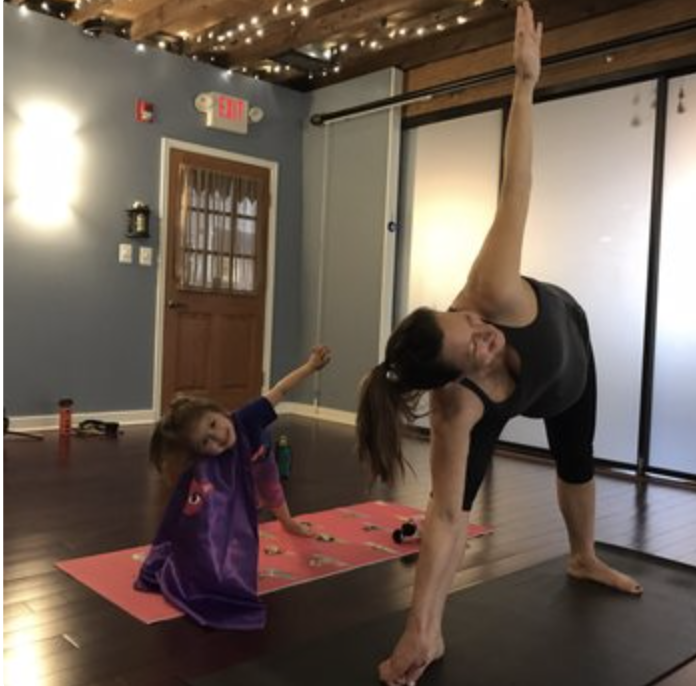 "By far the best return to my practice, ever!! Coming back after 3yrs (post my daughter being born), I was in pretty bad shape. I had also been been babying a herniated disc injury the entire time away and could barely move. When I found out I was pregnant again, I couldn't begin to imagine how my body was going to handle this...in the shape I was in. At 12 weeks along I found Prana Das with only my hope that I'd be able to improve enough to get a little movement back. Once I began my work with Nadia it was mind blowing how fast she had me back into my practice and beyond. At 6 months pregnant I was stronger and more confident in my back than before my first child. We spent 2 days a week throughout the entire pregnancy - just working around the ever growing belly. When I say that she, "saved my life" - it's the absolute truth. My daughter would come with me on occasion, that was so special. I practiced until the week before I had my second child and returned to practice 2 weeks afterwards. I am so proud of myself (at age 43) and thankful to everyone at the studio for all the support they have given me since the first day."

It's never too late to come back to practice or start for the first time. It just makes it so much better when your in good hands. Nadia and Derek's studio is beautiful, the teachers are all amazing and they love what they do!!

Life is a journey, not an event.
- Kristen B, Happy Mom with a Happy New Baby Boy, Trip!
Frequently Asked Questions
When does the course start and finish?
When you enroll, you will have immediate access to the entire course with your subscription and as long as you keep it! We recommend practicing one of the included sessions two to three times a week if possible. We find that moms continue to use these practices in the initial months after giving birth to re-strengthen, stay healthy and be more restful and at peace with their new babies.
How long do I have access to the course?
You have access to the course as long as you keep your monthly subscription. We continuously add new videos, interviews and ideas to the course. If you have questions or suggestions you'd like to see covered, please email us at
[email protected]
What if I am unhappy with the course?
We look forward to helping you enjoy this practice and to seeing it help you like it has helped thousands of women! If you are unsatisfied with your purchase, just contact us in the first 30 days and we will give you a full refund. You can also end your monthly subscription at any time and it will cancel at the end of the next month you are viewing it - no questions asked! Of course, if you have a question, we hope you ask it so we can support you!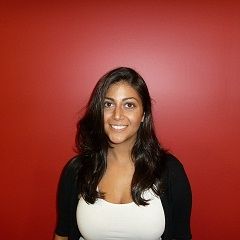 "Having enjoyed most of my time [practicing] while pregnant, I appreciated all the knowledge the teachers were able to provide in helping guide me to safe modifications. I was still able to challenge myself even at 39 weeks pregnant. Absolutely love Derek and Nadia, they are wonderful teachers, have a very friendly attitude, and a warm welcoming space. Whether you are new to yoga or enjoy a challenge with deepening your practice, they have you covered."
- Arpi DiLibero, Healthy, Happy Mom!